Crock Pot Creamy Beef Curry
ImPat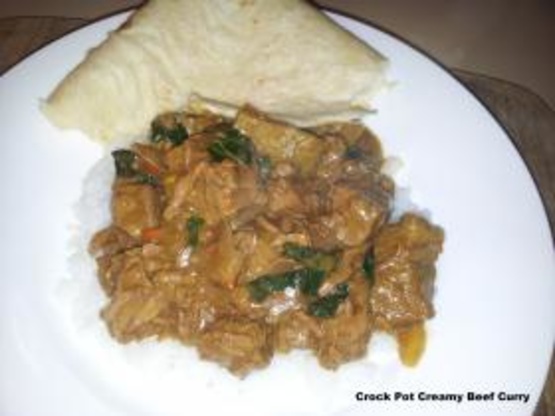 This is a very simple but delicious recipe for beef braised in Indian spices. Ground almonds are used to thicken the sauce, and yogurt may be added if you prefer a creamier result. Good served over fragrant basmati rice, accompanied by steamed green beans and warm naan, an Indian bread.

Delicious!! This was a winner at our family table...so tasty and so easy to prepare. I popped it in the crockpot before I left for work and came home to the most wonderful aroma. Served over Recipe #108305 with a dolop of yogurt..Mmmm!! Edited to add...leftovers the following day were even more flavourful.
In a skillet, heat oil over medium-high heat.
Add beef, in batches, and brown.
Using a slotted spoon, transfer to slow cooker stoneware.
Reduce heat to medium.
Add onions and cook, stirring, until softened.
Add garlic, gingerroot, chilli pepper, cumin, coriander, turmeric, salt, peppercorns, cardamom and cloves and cook, stirring, for 1 minute.
Add beef stock and bay leaf and bring to a boil.
Pour mixture over beef.
Stir to combine.
Cover and cook on Low for 8 to 10 hours or on High for 4 to 5 hours, until beef is tender.
Stir in almonds, cover and cook on High for 10 minutes.
Stir in yogurt, if using, and serve over hot cooked rice.
Delicious& Dependable Slow Cooker Recipes.