Crock Pot Chicken Parmesan
Pamela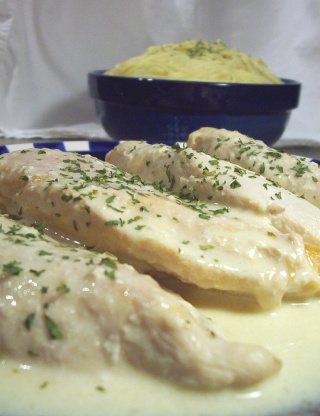 A recipe I adopted from a lovely chef..."This recipe was inspired by chef marie's Chicken Baked in Milk and Butter #76910. I was making it and changed things around to make it in my crock pot and then made the cheese sauce from the leftover juices and thought I'd post a new recipe for it! Hubby and I enjoyed it and I hope you do to!(= "

Top Review by Pamela
I left this recipe out for my Husband to make while I was at school. It was his kind of recipe because all he had to do was add the milk to the chicken and I did everything else when I got home, lol! This was pretty good but i just could not get the sauce to thicken up as much as I would have liked. I served this with spaghetti and rach bread recipe #102957. Thanks for posting!
Place chicken, milk, and butter in crock pot and cook on low 5-6 hours (until done).
When chicken in cooked through, remove from crock pot and add cornstarch and parmesan cheese to juices in crock pot and stir until thickened.
Spread cheese mixture on chicken, sprinkle with parsley, and serve.