Crock Pot Barbecued BBQ Ribs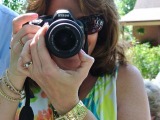 So easy but very delicious. They just fall off the bone. Broiling them first keeps them from being greasy. From the Rival Crock-pot Cookbook.
Directions
Cut ribs into serving portions. I usually do two ribs together.
Sprinkle both sides with salt and pepper.
Place ribs on a broiler pan and broil 12 minutes per side or until browned. I like mine a bit 'crisp'. Drain if necessary.
Place sliced onion in crock pot.
Place rib sections on top of onions. Pour a little barabecue sauce over each section as you place them in the crock pot and the rest of the bottle over all the ribs.
Cover and cook on low for about 8 hours.