Crispy Skin Baked Potatoes
I used to microwave baked potatoes for about half the cooking time and finish them off in the toaster oven. My better half said they had steamed taste-not like real baked. I found this recipe in one of the many cooking magazines that I subscribe to (not sure which one).
Directions
Scrub potatoes with a vegetable brush, coat with vegetable oil and sprinkle liberally with sea or kosher salt.
Pierce twice on each side with a fork and place in a 450°F oven.
Bake for 1 hour or more, depending on the size of potatoes.
These are fabulous with a moist and fluffy interior and a crispy skin if you care to eat it.
Most Helpful
Yes! It worked! Thank you!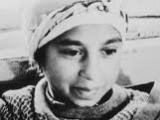 The proper classic way to do it. However, I do the microwave cheat at times when pressed for time. :-) Don't forget the butter!!

Perfect baked potato flakiness. I will be doing my 'taters this way from now on. It's so easy! If you want easier clean up just put a sheet of aluminum foil down first. You could probably bake them directly on the oven rack too if you wanted.