Bergy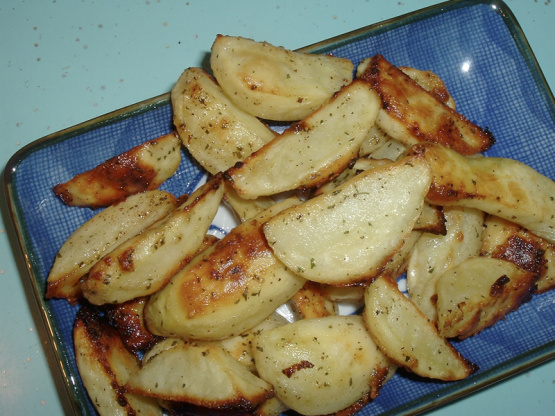 This is the easy version of a popular dish at our house. If I don't use the soup mix, I concoct my own version with herbs (rosemary is great here), sea salt, hot sauce, and whatever comes to hand. Any kind of potato can be used resulting in a slightly different texture of the dish. Oil should be added just to coat the potatoes, they don't need to be drenched. Or for a lighter version, spray the potatoes with cooking oil and delete the olive oil. This is so easy, but it's so good.

Got home unexpectably late and exhausted, and had 10 minutes to prepare something for dinner to go with the ham and rolls I brought home from the store. I went to the computer, typed in oven fries and luckily, picked these. Perfect. Had them in the oven in 5 minutes. I cut them thinner than recommended here and they were done in 30 minutes. Thanks, Merrie.
Scrub potatoes well and leave skins on.
Halve each the long way, then cut each half into quarters to make 8 steak fry shapes.
Smaller potatoes can be cut into quarters.
Put potatoes into a large bowl and add dry soup mix and the oil.
You made need more or less oil depending on size of potatoes.
Mix all very well with a large spoon.
Spray a large broiler pan or large flat cooking pan with cooking spray.
Spread potatoes so that they are only in one layer on the pan.
Place in 400 degree oven for 1 hour.
IMPORTANT: These need to be stirred every 15 minutes to keep them from sticking to the pan and to ensure even crisping.