Crispy Buttermilk Waffles
gailanng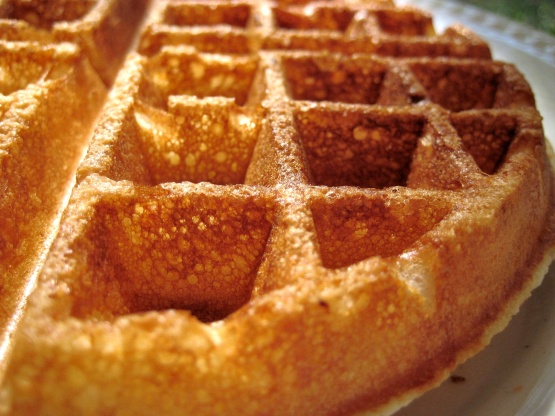 These waffles are AMAZING! They are so crispy, you won't believe it. TIP: Cool leftovers, and freeze. To reheat, put waffles directly on oven rack at 350 degrees F., and bake for 5-7 minutes.

This is my favourite waffle recipe, the waffles are crispy and taste great. I use 1 cup refined flour and 1 cup wholemeal. Planning to make it totally wholemeal next time. I'll make waffles from this recipe again and again! The only thing is that the batter the next morning looks very think so I add milk (maybe it is think because of the wholemeal flour that absorbs liquid...). Anyway, the portions in the recipe and the milk I add (about 1 glass) are enough for 3 people's breakfast.
Prepare the batter and refrigerate at least 8 hours before baking--all day to have waffles for dinner (try over under ice cream), OR overnight to have them for breakfast.
Make the batter in the morning OR evening:.
Combine and whisk together the dry ingredients in a large bowl: flour, yeast, sugar and salt. Combine the melted butter and milk (or buttermilk). Add the mixture to the dry ingredients. Whisk eggs and vanilla together in a separate small bowl. Add the egg-vanilla mixture to the other mixture, and whisk until well-combined. Cover with plastic wrap and stick in the fridge until tomorrow morning.
That evening OR following morning:.
Prepare waffle iron as usual. Stir the batter to deflate it (it should be puffy and frothy). Add to waffle iron the same way you would other batter, keeping in mind that this batter will rise more than batters that use baking powder instead of yeast.
Makes 4-6 large round waffles.
NOTE: This recipe is easily made with milk OR buttermilk.