ImPat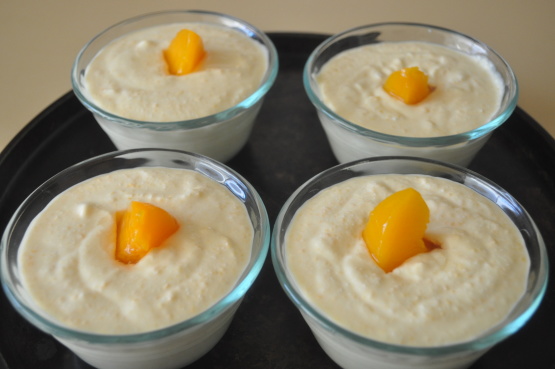 From Light & Tasty Magazine Feb/Mar. 2008. Originally submitted by Aris Gonzalez from Deltona, Florida.

Top Review by ImPat
Made for 4 and for the DM and DS (dessert over 2 nights) but I had a taste (don't have a sweet tooth) but found a litle grainy to taste but that could be the cottage cheese (Weight Watchers brand) but otherwise tsted very nice. Thankyou Shelby Jo, made for ZAAR Stars.
Thinly slice 4 peach slices; set aside for garnish.
Place remaining peaches in a food processor; add cottage cheese. Cover and process until blended. Add cream cheese and sugar substitute; cover and process until blended.
Spoon into four serving dishes. Top with reserved peaches.
Refrigerate until serving.