Creamy Coffee Ice Cream Soda
Annacia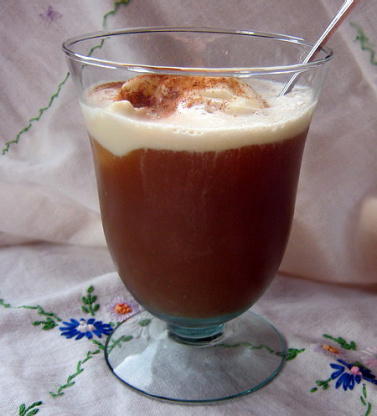 This makes about 7 cups, I could drink this just by myself, it is so good!

This is my most favorite cold coffee drink, by far! I put the club soda in the freezer until it was partially froze, then broke it up before I put it in the blender. That made it colder and icier (if that's even a word). I put the mixture into a huge insulated mug, and just about drank the whole thing ... (I had to share a little with my hubby). I also added about 1/4 cup of "White Chocolate Mudslide" International Creamer" ... Oh my gosh, YUM! Once again Kittencal, another keeper! Thanks. One additional note: be sure to use CLUB SODA, and not Tonic Water like I did the second time I made this! (Hubby picked that up by mistake...he doesn't get anymore). It was to horrible, I had to throw the whole mixture out}(
In a large bowl or glass pitcher combine the brewed coffee and chilled club soda; stir in ice cream.
Sprinkle with cinnamon.
Serve immediately.
Delicious!