Creamy Chicken Tequila Pasta
Prep 15 mins
Cook 20 mins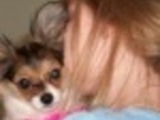 This chicken and rich sauce is a perfect match with fresh spinach fettuccini. We have crusty rolls on the side to mop up the sauce, its so delcious that you don't want to leave any on your plate.
Directions
Combine chicken and soy sauce in a bowl and chill until needed.
Heat 1 tsp oil in skillet over medium heat; add onion and peppers and stir cook until onion softens.
Remove from pan and save.
In the same skillet over medium heat, heat remaining oil and add cilantro, garlic and jalapeno and stir cook for 2 to 3 minutes. Add chicken stock, tequila and lime juice. Bring to a boil and cook until liquid has evaporated (5 to 7 minutes).
Add chicken and soy sauce mixture and cream to skillet. Bring to boil, stirring constantly. Lower heat and cook until chicken is cooked through and sauce is thick (7 to 10 minutes).
Stir in onion and peppers.
Serve over cooked pasta of your choice.
Most Helpful
Followed as written and it was great.
this tasted great, however, I had to add alot more cream, more tequila and more lime juice and it still wasn't enough sauce. Next time I will double the sauce to begin with and then add if I need to. Other than that, tastes just like the Tequila Lime Chicken served at the California Pizza Kitchen restaurants. Excellent flavor and texture, will definitely make again!!