Chicken Tequila Fettuccine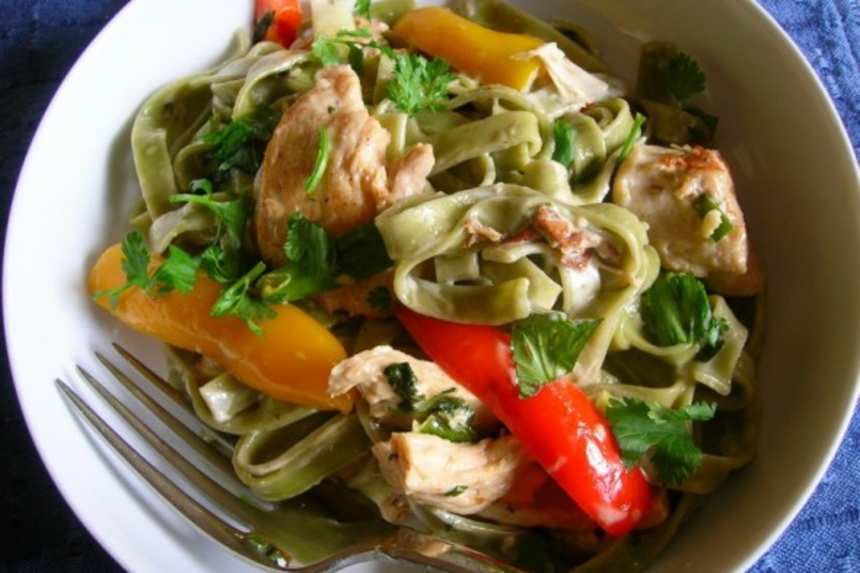 photo by Pam-I-Am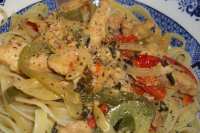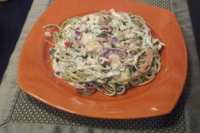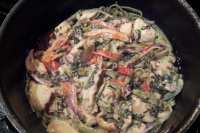 Ready In:

35mins

Ingredients:

15
directions
Prepare rapidly boiling, salted water to cook pasta; cook until al dente, 8 to 10 minutes for dry pasta, approximately 3 minutes for fresh.
Pasta may be cooked slightly ahead of time, rinsed and oiled and then reheated by dipping into boiling water or cooked to coincide with the finishing of the sauce/topping.
Cook 1/3 cup cilantro, garlic and jalapeno in 2 tablespoons melted butter over medium heat for 4 to 5 minutes.
Add stock, tequila and lime juice.
Bring the mixture to a boil and cook until reduced to a paste-like consistency; set aside.
Pour soy sauce over diced chicken; set aside for 5 minutes.
Meanwhile cook onion and peppers, stirring occasionally, with remaining butter over medium heat.
When the vegetables have softened, add chicken and soy sauce; toss and add reserved tequila/lime paste and cream.
Bring the sauce to a boil; boil gently until chicken is cooked through and sauce is thick (about 3 minutes).
When the sauce is done, toss with well-drained spinach fettucine and cilantro.
Questions & Replies

Got a question?
Share it with the community!
Reviews
This was really good! It is realatively simple to make and the flavors are great. I used one whole jalepeno, seeds and all, and it was just enough spice to let you know that it was there but not hot enough to make it inedible. **Side note, Be careful when handling chile peppers. I forgot to wash my hands after chopping it. I rubbed my eyes and you would have thought someone was killing me!!** The colorful bell peppers add a nice touch to make it appealing to the eye too. I took the left overs to work and shared them with my office staff. The boss asked for the recipe! Overall, this is a very easy, tasty recipe that I will most definately make again!

 

Update: Chop garlic, cilantro and jalapeno and start the reduction - then chop the rest. Also - important!!! I used 1/2 and 1/2 and it worked just as well as the heavy cream. Save yourself a few calories and use 1/2 and 1/2 with no loss of flavor! Prior review: This was JUST like CPK... couple of tips... cut and chop and prepare all ingredients first... Then start to cook. I reduced the jalapeno (lots of jalapeno - but no membrane / no seeds), stock, cilantro mixture on low simmer for a long time -- as our dinner was delayed. I suspect on a somewhat aggressive boil you could do this in 20 - 30 min... I think I simmered for about an hour... I got this down till all the stock / tequila was basically evaporated and only vegetables and the butter remained. I did 2X the ingredients to 24oz of dry macaroni. I was concerned that the veg / cream mixture was not going to thicken - but once I added the al dente macaroni and all was in a single (large) pan - the cream was soaked up by the pasta and it was just a smidge too dry. (for my taste). Given a double recipe - it was 8 Large servings (3 oz pasta ea). Some guests took take-home containers... All diners agreed I could have had more peppers and onions. So...next time - I'd probably do 1.5 sauce and 2X vegetables for 1X pasta - when I make this again. Because this rocked it out. SO GOOD. Hubby used to order this at CPK - and asked if it was too much work to cook just for him. LOL. Will be making again... and I suspect I'll be trying it with 1/2 and 1/2 to see about bringing this down a bit in calories.

 

Perfect, exactly like CPK! I just made this tonight with a recipe nearly identical to this one, but not found on this site. If you don't have a few hours to devote to this dish from beginning to end, I would recommend doing all the prep work ahead and/or making the cream sauce ahead. Please note, the most important part of this recipe is the cream sauce and it is very important to get it to a paste like consistency. This may take 10-15 minutes once the stock, etc. is added. In the similar recipe I used, the cream is added to the cilantro garlic paste and reduced down my a half cup. I also used a total of 5-6 tbls (3 small limes) of fresh lime in both the sauce and the chicken. You may skin the jalepenos (by blistering 4 mins and removing skin with paper towel) before you mince them to make a smoother sauce. Don't skimp on ingredients if you want the CPK experience. Also if you are worried about calories or fat, this recipe is not for YOU. The time to prepare this to completion was 2.25 hours of which most is prep work. I could not tell the difference between my version and CPK and this is one of my most favorite pasta dishes on earth.