Creamy Basil and Sun-Dried Tomato Vegan Pasta
Prose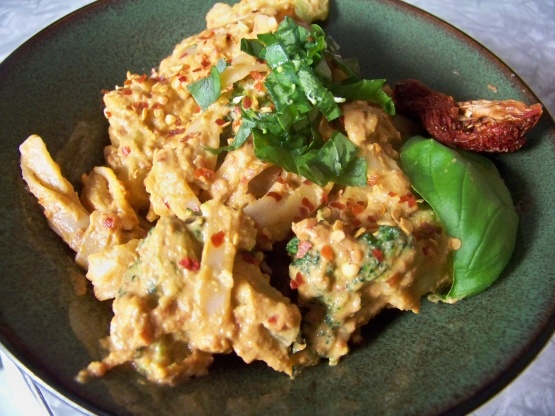 Top Review by Mel_C
Newly vegan and have been looking for something to satisfy my dairy craving. This absolutely did the trick! It was delicious and felt like I was eating something creamy and off limits. Didn't add all the sauce to the pasta because I felt it would be a little rich for my taste. I did make some crostini and spread the leftover sauce on them, amazing! This recipe is great as is but I will be using the sauce as a dip/spread with veggies and on sandwiches as well.
Cook pasta.
While pasta is cooking, blend tomatoes, tofu, garlic, basil, and salt in a food processor or blender until smooth.
Set aside.
When pasta is almost done, add broccoli to pasta water and cook for an additional 3 minutes.
Drain and return pasta/broccoli to pot.
Add sauce and toss well.
Serve immediately.