Creamy Avocado and Cherry Tomato Toast
Food.com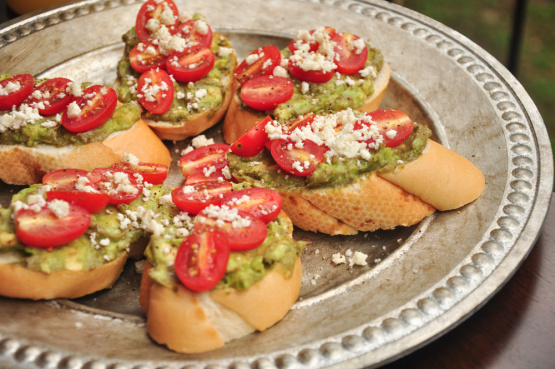 I have just pulled my head out of the avocado sand and discovered that I really like them. So, I have been experimenting with ways to use them in my diet. This was this morning's breakfast. For some reason it reminded me of Mexico. All I needed was a warm breeze instead of cold London.

I love avocados and this was simple and delicious! When I make guacamole, I sometimes buy one too many avocados. This is a great way to use up a lonely avocado before it gets too ripe! Next time I might add a little chopped cilantro and scallions to the tomatoes and serve it on a grilled baguette as an appitizer before taco night!
Put the bread into toaster and start it toasting.
Meanwhile, scoop out the avocado flesh and put into a bowl.
Add lime juice and pinch of salt and then mash all of it together until pretty much smooth.
Spread avocado mixture over toast.
Divide between cherry tomatoes between slices and arrange on top.
Serve.