Prep 25 mins
Cook 35 mins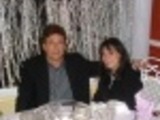 I love creamed spinach, and this is a way to dress it up a bit. From Real Simple Magazine November 2005.
Directions
Heat oven to 375 degrees.
Rub the sides and bottom of a buttered 8-inch baking dish with the garlic; discard garlic.
In a skillet, over medium heat, melt the butter. Add the shallots and cook until softened, 5 to 7 minutes.
Squeeze the spinach to remove any excess liquid. In a large bowl, combine spinach, cream cheese, heavy cream, milk, Gruyere or Swiss cheese, salt, pepper, nutmeg and shallots. Transfer to dish.
Bake, uncovered, until bubbling and lightly golden, about 25 minutes.
Most Helpful
Mmmmm, yummy spinach. Very easy. Just mix it up, throw it in the oven, and prepare the rest of the meal.
This was a wonderful way to prepare spinach. The cream cheese added a nice creamy touch, but the sautéed shallots add such a nice earthy tone to it. We loved it! Thanks for sharing your recipe, JackieOhNo. Made for Culinary Quest 2015 (Swiss).

This is a delicious spinach casserole. I reduced the recipe by 1/2 and there was plenty for dinner and some leftovers. I did not have gruyere (which is my preference) -- used the grated swiss cheese with no other changes. This dish comes out of the oven rich, bubbly and delicious. Made for Everyday is a Holiday, October, 2013.