Debbwl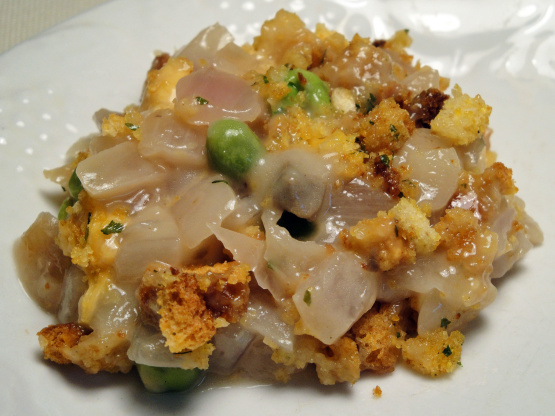 From Campbell's Kitchen...this sounds so good and the photo posted is amazing!

Top Review by Debbwl
Having a hard time rating this one. While we liked the filling the cornbread topping was so over salty it made the dish uneatable. We decide on four stars as the salt issue may have been in using a store bought cornbread stuffing, which is what was way too salty for our taste. Think this would be worth trying with a home made cornbread stuffing. Made using fat free cheese and chopped the onion instead of slicing. Thanks for the post.
1⁄4 cup butter
1 1⁄2 cups cornbread, stuffing

2

tablespoons chopped fresh parsley or 2 teaspoons dried parsley flakes

3

large onions, cut in half and sliced (about 3 cups)

1

(10 3/4 ounce) can cream of mushroom soup
1⁄4 cup milk

1

cup frozen peas

1

cup shredded cheddar cheese
Preheat oven to 350 degrees F.
Heat half the butter in a 1-quart saucepan over medium heat until melted. Remove the saucepan from the heat. Add the stuffing and parsley and mix lightly.
Heat the remaining butter in a 10-inch skillet over medium heat. Add the onions and cook until tender, stirring occasionally. Stir the soup, milk and peas in the skillet.
Spoon the soup mixture into a 2-quart shallow baking dish. Sprinkle with the cheese and the stuffing mixture.
4.Bake for 30 minutes or until the mixture is hot and bubbling.