littlemafia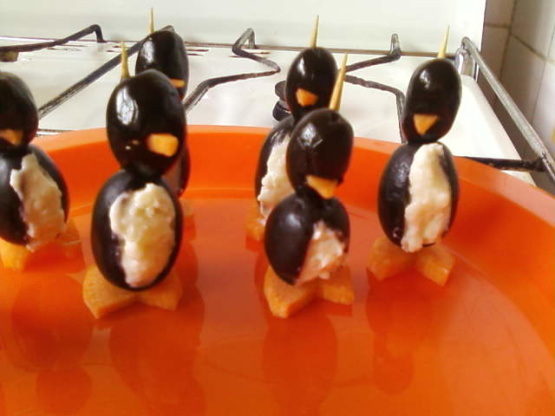 My kids have just as much fun making these as they do eating them. They are a fun item to take as an appetizer to a holiday party.

These had RAVE reviews at the party I brought them to. I used onion & chive cream cheese. I found that it was best to fill the tummy, by putting the cream cheese in a zip lock bag and cutting the tip, then piping them into the olive. Then I refrigerated the olives with cream cheese for about 1/2 hour before I assembled them. Then refrigerated before I served. Also if you use a slightly thicker slices of carrot they stand up better rather then using a thinner slice. These were the first thing gone at the party!!
Cut a slit lengthwise from top to bottom in each jumbo olive.
Fill the cavity of each jumbo olive with about 1 tsp of cream cheese.
(this makes the white stripe of your penguins chest) Cut carrot into 1/4 inch slices, then out of each slice cut a small notch (this is your penquin's feet), save the piece you cut out this will become the beak.
Cut a small slit in the center of each small olive and press the cut out piece of carrot into the hole with the pointed end out.
Using a frill toothpick, stack head (small olive), body (large olive) and feet (carrot slice), adjusting so that beak, cream cheese breast and notch in carrot slice line up.