Cream Cheese and Nutella Filled Pound Cake
2Bleu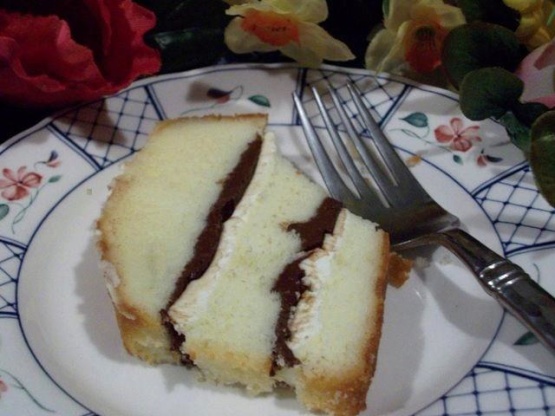 This recipe is super easy and can be made with Nutella or your favorite fudge icing. It can be prepared before dinner, or the night before serving. It requires a minimum of 2 hrs chill time.

Top Review by Sam 3
Strangely I couldn't find a plain pound cake so had to use a raspberry one. I've never had Nutella, but DH is always raving about it. I found layering the pan with the foil made it super easy to slide it back in the pan. A very interesting combo! DH of course thought it was the greatest :)
1

butter pound cake, loaf pan type (store bought or homemade)

170.09

g cream cheese, softened

78.07

ml powdered sugar

118.29

ml toffee pieces, chopped fine (optional)

177.44

ml nutella (or chocolate icing)
Cut pound cake in half horizontally (or in 3 even horizontal slices and make it even more fanciful. Just half the filling for each layer). Using an electric mixer, beat cream cheese and powdered sugar together until light and fluffy.
Spread cream cheese on bottom piece of cake. Sprinkle with toffee bits (if using) and gently press the pieces into the cream cheese. Spread the other half of the pound cake with Nutella.
Place Nutella cake over top of cream cheese side (like a sandwich). Immidiately wrap cake tightly in foil, place back into loaf pan, and refrigerate 2 hrs or overnight.
When ready to serve, cut into 6 wide slices then cut the slices in half (making 12 pieces total).