Pam-I-Am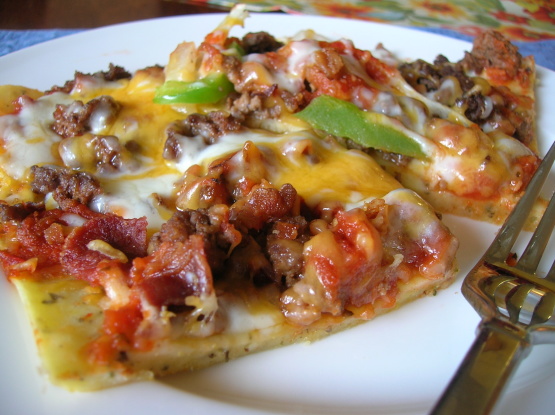 Whenever you need pizza quick, this is the recipe to go for! It is not a traditional yeast dough crust...it actually starts out with a batter that turns into a crust. It is extremely easy to prepare, very good and you could probably have it done and on your table before the pizza parlor could :)

Top Review by Elaine
I scaled the recipe to 2 servings cooked it in a 8" round cake pan and made my own personal pan pizza. I added garlic powder, onion powder and pizza seasoning to the mix. I used a ton of red and green peppers, banana peppers and red onions. It was delish. A definate repeat, I can't wait to make it for my husband. I have been looking for a lower calorie pizza crust and I have found it! Thanks a bunch for posting!
Preheat oven to 400 degrees.
Grease and flour a pizza pan or 10 x 15 baking sheet (with sides).
Combine flour, salt, oregano, pepper, eggs and milk and mix well.
Pour batter in pan and tilt pan around until bottom of pan is evenly coated.
Sprinkle the cooked meat, onions and mushrooms over the batter.
Bake for 20 minutes.
Remove from oven and drizzle on pizza sauce.
Sprinkle evenly with cheese.
Bake for about 5 more minutes, or until cheese is bubbling.
Slice and serve!