Cranberry & Turkey Meatloaf
Derf2440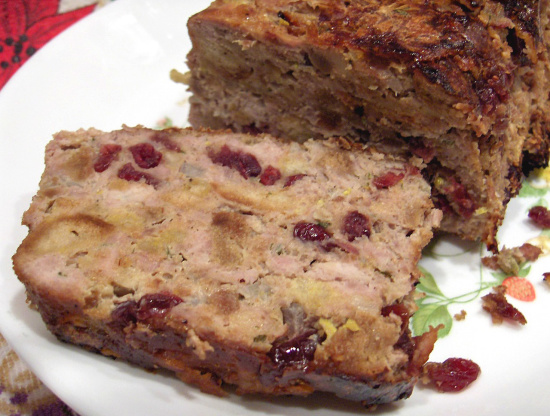 I concocted this recipe for a change from the usual ground beef meatloaf. It is easy to prepare, moist and tasty.

One of our favorite holiday recipes. I change it a tiny bit to accommodate our leftovers...I leave out the milk/water and use 1 cup of leftover HOMEMADE whole cranberry sauce. It makes this recipe over-the-top delicious. My cranberry sauce is a simple recipe from the Joy of Cooking cookbook and it gives this meatloaf the perfect taste. My husband likes Thanksgiving and Christmas more because he knows the meatloaf will follow....hahahah! My two <4 year old boys also love it, which is amazing.
Combine all ingredients in a large bowl. Mix well.
Transfer to a greased loaf pan,.
Bake uncovered for 50-60 minutes in a preheated 350 degree oven.
Remove from heat and allow to rest for ten minutes before slicing.