Cranberry Orange Marmalade
Calee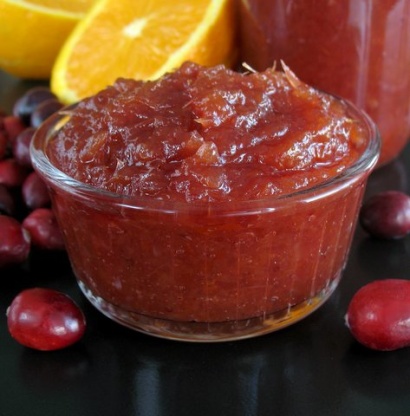 This sweet-sour marmalade is nice on toast or biscuits, or with crackers and strong-flavored cheeses. From Cooking Light.

Top Review by Calee
I wish I could give this more stars, great flavor we love marmalade and cranberries so I was really excited to try this I made as directed but found the cranberry pieces were to big so I used a stick blender and found the texture better but it also cut the pieces of orange rind to small for my liking. Next time I will cook the cranberry/orange fruit until cooked (10-15) minutes then blend and then add the orange rind and cook until thick. I also found the amount of sugar perfect!
Carefully remove rind from 3 oranges using a vegetable peeler, making sure not to get any of the white pithy part of the rind. Slice rind into thin strips.
Peel all oranges; cut into sections. Combine rind strips, sections, 1 1/2 cups water, and 1 cup sugar in a medium saucepan; bring mixture to a boil. Reduce heat, and simmer for 15 minutes, stirring occasionally.
Add remaining 2 cups sugar and cranberries to pan. Simmer 1 hour and 30 minutes or until thick, stirring occasionally. Remove from heat, and cool completely. Cover and chill.