Easy Orange Marmalade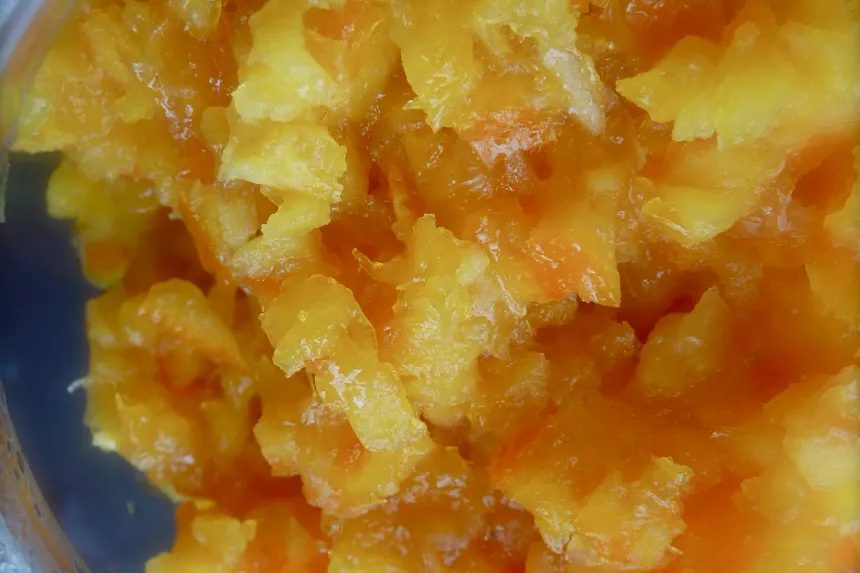 photo by COOKGIRl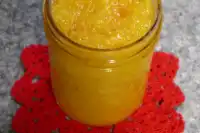 Ready In:

25mins

Ingredients:

3
directions
Select Navel oranges that have the thinnest peel.
If the orange is large double the amount of water and sugar.
Wash the orange thoroughly.
Cut off both ends of the orange.
Cut the orange in half, cut each half in about eight sections.
Place the orange sections in the food processor and pulse until the peel in is tiny pieces.
In a medium saucepan place the processed orange, the water and the sugar and bring to a gentle boil.
Boil for 15 minutes, stirring frequently.
Let cool, then place in a glass jar with a tight fitting lid.
Refrigerate to store.
When it is cold it is ready to eat.
I use 1/2 sugar and 1/2 Splenda and it works well.
Reviews
I found a recipe to make the other day and didn't realize it called for orange marmalade. Now, orange marmalade isn't my favorite type of jam, but I think now it is. I used an organic navel orange from our CSA box, unbleached white sugar and in 20 minutes tops, I had a delicious marmalade. An added plus is the fact there is no sterilizing of jars, pectin or canning of any sort involved. The marmalade was slathered on a cranberry bagel with cream cheese. Thank you for posting! Will make again later in the week. Another reviewer mentioned vanilla pod and I think that is a great idea.

 

I made this tonight and it was so easy! When it was close to the end of the 15 minutes of boiling, I noticed the marmalade started getting a tiny bit darker. I pulled it off the stove at about "12 minutes of boiling, and it turned out great! At first, I wondered if it would come together or stay liquidy, and it thickened up nicely on it's own. This was my first time making marmalade, but not my last. Delish! Thank you so much!!!!!

 

What a perfect little gem of a recipe! This is so quick and easy to make, and it is SO fresh tasting and not overly sweet. (I compared it against the marmalade recipes I have in my canning books, and this has only half the sugar). I often run into recipes where I need orange marmalade as an ingredient, and I never seem to have any on hand (and I can't seem to remember to buy it, either!). Now there's no excuse not to have some when I need it. I really liked the idea that I could make this by the jar, since while it's OK for me to make and store a dozen jars of raspberry or strawberry jam, we just don't go through the marmalade like that... Of course now that we have THIS marmalade, that might change! It is the BEST marmalade I have ever tasted. Thank you so much.

 

I spend 3 months in Spain in winter and used my neighbours small bitter oranges. Used 4 small oranges with peel and flesh a little more sugar and water. Result, wonderful flavour great texture . What a great marmalade. We have a lemon tree and will try a lemon marmalade next. Has anyone a recipe for this.

 
Tweaks
I adapted Carole's superb and simple recipe to make a Scottish marmalade with bitter Seville oranges which are available in UK in January. I followed the recipe doubling ingredients, having first taken out the pips and cut out the heavy pith which Seville oranges have. I used a light brown Muscovado sugar instead of white granulated and added a teaspoon of powdered ginger. The result is spectacular if, like me, you like a strongly flavoured dark Seville orange marmalade for breakfast. I shall make another batch using sweet oranges as per Carole's recipe, which I shall use for basting hame joints, red cabbage recipes and cakes.<br/>Stuart Buchanan at Stuart's Kitchen in UK.