Cranberry Chocolate Cookies
Saturn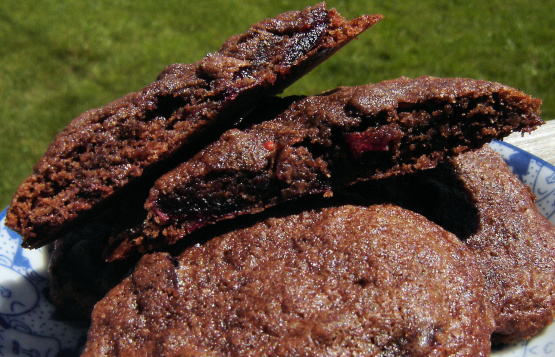 Top Review by HeathJ
A-Mazing!!! Do not wait until Thanksgiving to make these!!! These were simply delicious! If you love chocolate w/ fruit in it - you will love these. They are soft and moist and have the most wonderful fruity chocolatey flavor. They aren't overly sweet - but just the right balance. Plumping the cranberries in the OJ makes such a terrific difference. Here's all I did differently - I thought 1/2 cup (2 sticks) butter would be plenty, so I cut that back a bit. I sifted the 1/2 cup cocoa (used Ghirardelli unsweetened) - and I used Hershey's special dark chocolate chips, just b/c we like dark chocolate. And I toasted some walnuts and threw them in too. Only issue - the dough was pretty soft - almost like a nice thick brownie (these would also be great as a bar cookie/brownie, btw...) Anyhow, as such, the first batch of cookies were too thin... next time I'll plan to fridge the dough for a bit first - I did fridge it after the first batch - and then the rest turned out just perfect! These will be made again and again. Perfectly perfect!!! Thank you!
Preheat oven to 350 f degrees grease cookie sheet and set aside. Place cranberries and orange juice in a microwave safe bowl. Cover with celephane. Microwave until warm, 1-2 minutes.
In another bowl mix flour and cocoa, baking soda and salt.
On a large bowl, beat butter and both sugars until mixed. beat in eggs an vanilla. Add flour mixture until just mixed. Stir in chocolate chips and the cranberry mix.
Drop tablespoonfuls of dough about 1 inch apart on greased cookie sheet. Bake until cookie edges are firm (about 10 minutes.) Cool for 5 minutes on the cookie sheet and then remove to wire rack. Store at room temp for up to 3 days or in the freezer up to 1 month.