Cranberry Apricot Pork Roast
Parsley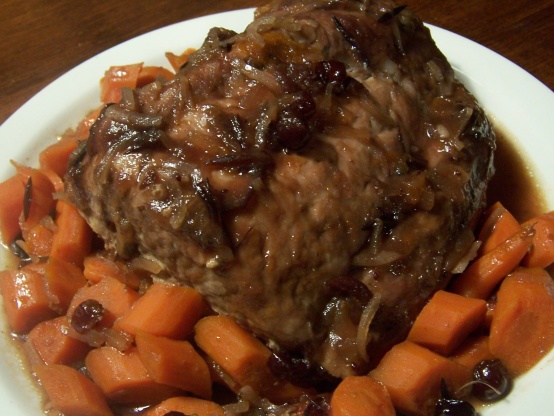 This is a sweet/savory pork raost recipe for the slowcooker, but I suppose could be adapted to the oven. The carrots are optional but they do go very well with the sauce.

I was really excited to try this recipe. I do not normal care of pork...but it sounded really good. Sadly...I was deeply disappointed! My husband who isn't picky about any food didn't even like it. The pork had no flavor...the sauce turned a weird mushy brown too. Overall it wasn't terrible...but it was FLAVORLESS. We added some salt and that helped a little...but not a lot.
If using the carrots, place them on the bottom of your slowcooker.
Next, put the boneless pork roast in the slowcooker.
In a small bowl, whisk together all remaining ingredients until well-blended.
Pour sauce mixture over pork.
Cover and cook on low for 7-8 hours or until pork juices are no longer pink and tests done w/ thermometer.