Ceezie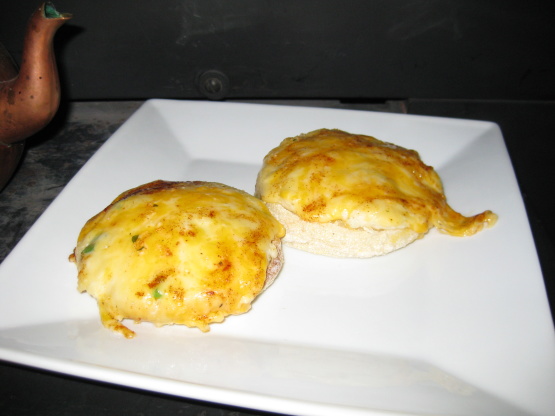 My mom made these when I was a little girl, and I've always loved them. Mom always served them for dinner, but they would also be great for a brunch, or lunch. Now that I'm an adult, this was one of the recipes that was important for me to get and keep for the generations to come. I hope you enjoy it as much as I do. Feel free to add hot sauce or red pepper if you prefer a kick in your sandwich.

Top Review by Mimma
Thank you to Ingrid and her Mom for this recipe. I made these the other day and they came out great! I only had four english muffins on hand so we all just had some extra crab mixture on our muffins. I grated about 3 oz of extra cheddar for on top and that really made these taste outstanding. I will definately make these again.
Preheat your oven to 350°F.
Split english muffins, and place on a greased baking sheet.
Combine crab, mayo, and onion. Mix until completely combined. (You may add more or less mayo depending on how "wet" you like this mixture.).
Taste, and add salt and pepper as necessary.
Spread crab mixture evenly over the muffin halves.
In a small saucepan, over medium heat, melt the butter.
Add the flour, and whisk to combine. Cook for 2 minutes, stirring constantly.
Stir in milk, and whisk to keep lumps from forming.
When milk is hot (DO NOT BOIL), add the cheese, continuing to stir constantly, until the cheese is fully melted, and the sauce thickens.
Taste, and add salt and pepper as necessary.
Top the muffins with the sauce.
Sprinkle with extra cheese to taste, and with paprika for color.
Bake at 350 F for 20 minutes, or until the sauce is golden and bubbly.
Serve immediately.