twissis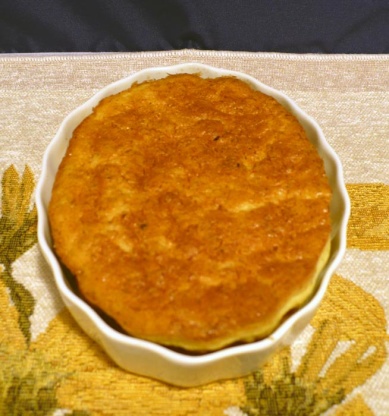 A delightful casserole for Sunday brunch. This recipe was printed in Southern Living Low-Fat Recipes, January 1997 and comes from Amber House Inn, Scramento, California.

We had this for dinner tonight with a side salad. It was a good, well written recipe that resulted in a rich, but subtle dish. I think it could be improved with a little Tabasco, Worchestershire and a green onion. I didn't enjoy coming across tiny wet spots of cream cheese and would sub light cream for that in the future. I used real egg yolks.
Spray the bottom of an 8-inch square pan with non-stick cooking spray.
Spread melted margarine in the bottom of pan and set aside.
Combine egg substitute and next 4 ingredients.
Beat egg whites until soft peaks form and fold into egg mixture.
Stir in crabmeat and cream cheese cubes.
Pour mixture into prepared pan.
Cover and chill overnight.
Next morning preheat oven to 350 degrees; uncover casserole and sprinkle with paprika.
Bake for 40 to 45 minutes or until center is set.
The preparation time does not include the refrigeration time.