Cowcumber or Cucumber Boats
loof751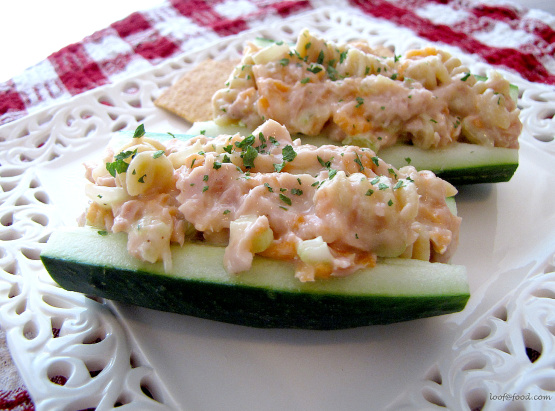 This another recipe from the wonderful Anne of Green Gables Cookbook by Kate Macdonald who being L.M Montgomery's granddaughter is an authority on what may have been served! ** Please note** Prep time is estimated. If you find it is more or less please let me know so I may update recipe.

This is a delightful recipe! I had some whole-wheat rotini on hand so used that instead of macaroni, which worked out fine. I forgot to peel the cucumber this time but I will try it peeled next time. The salad was nice and creamy and the lemon juice added a nice bright flavor. Garnished with a bit of chopped parsley and enjoyed a nice light lunch - thanks for sharing your recipe! Made for Spring Pick-A-Chef 2012
3 cups of water and pinch of salt into a small saucepan. Bring to a boil. Add the elbow macaroni gradually and boil until tender-about 8 to 10 minutes Drain the macaroni and place in medium mixing bowl.
Add tuna to macaroni.
Grate carrot and chop celery into tiny pieces and add both to macaroni and tuna.
Add mayonnaise, lemon juice, salt, and pepper and stir with fork.
Peel cucumber and cut off ends. Cut each cucumber length wise. Scoop out seeds and watery flesh.
Fill each cucumber with tuna mixture.