Covershot Pasta Primavera
KateL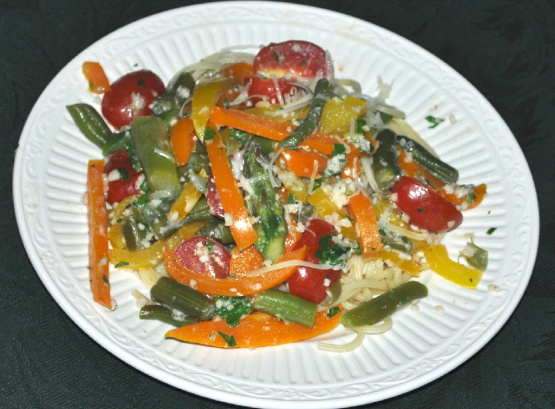 Found in an old Cooking Light magazine which was their cover recipe. I love a variety of pasta primavera dishes and this one has a nice twist with the fresh asparagus and green beans. I just loved the dressing flavors with all the garlic and the pinch of nutmeg. I hope you enjoy it too!

Top Review by KateL
Love all the veggies! We garlic-lovers approved of the amount of garlic. This is a Cooking Light recipe, and it shaved calories by omitting white wine for the sauce. I missed the wine, hence 4 stars. If you need to cook without alcohol and prefer simple flavors, then this recipe is a treasure. We also added red pepper flakes at the table, because this was somewhat bland for our current taste preferences. In the future, I would add grilled shrimp or rotisserie chicken to make this a whole meal. From my photo you can tell that I used one orange pepper and one yellow pepper, because that is what I had on hand, and I think the combination added to the rainbow presentation. For simplicity, I rested a large stainless steel colander in the top of my 4-quart Dutch oven, making it easy to cook and remove the veggies. When the recipe called for a large skillet, I used the 4-quart Dutch oven, reducing one pan from clean-up. Made for Photo Tag.
Bring a large pot of water to a boil. Add asparagus and green beans and cook 4 minutes. Add peppers and cook 1 more minute.
Scoop out veggies with a large slotted spoon and place in a colander then rinse under cold water.
Add pasta to the already boiling water and cooking following package directions (about 9 minutes). Drain and return to pot.
While pasta is cooking, place half and half, chicken broth, salt, pepper and nutmeg in a small saucepan. Bring to a simmer over medium heat.
Heat a large nonstick skillet over medium high heat and add olive oil and garlic and cook 30 seconds. Add cooked veggies and the grape tomatoes, cook and stirring a few times for about 2 minutes. Spoon veggies into pasta pot.
Stir grated cheese into half and half mixture. Then add this to the pasta pot and gently stir in parsley until all ingredients are combined. Allow to stand 5 minutes before serving. Dish out servings and top with additional grated Parmesan cheese if desired.