Countrywild Copycat Gourmet Rice Blend
COOKGIRl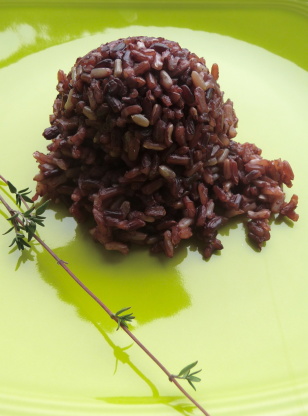 My homemade version of Lundberg's Farms' <Countrywild> gourmet rice blend. I am lucky to have access to all these grains in bulk bins and in that way I only purchase as much as is necessary for the recipe. Important note: the cooked rice will have a *brownish-lavender* hue (it's the Japonica rice's fault), it's completely natural and there is no cause for concern!
1⁄3 cup wehani rice (if unavailable, use long grain red rice or Louisiana wild pecan rice)
1⁄3 cup long grain brown rice
1⁄3 cup black japonica rice

2

cups filtered water (can substitute vegetable or chicken broth)

1

tablespoon butter (olive oil or vegan margarine)
salt, to taste
Rinse rice.
Put all ingredients in pot with tight-fitting lid.
Bring to boil, reduce heat, cover and simmer 45 minutes.
Remove from heat and set aside, covered for 10 minutes. (A rice cooker may be used with the same rice-to-liquid ratio.).
Before serving, you can if you wish, stir in a fresh herb of choice.