Bayhill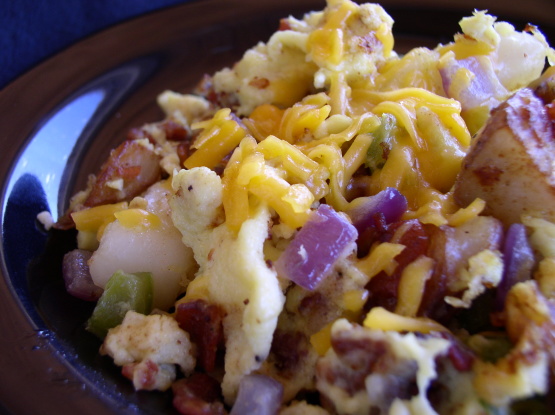 A recipes I found on-line at Land O Lakes. Farm fresh eggs are scrambled with healthy, hearty ingredients.
Yum! We loved this hearty breakfast scramble. Bacon, potatoes, bell peppers and onions...what's not to love. I halved the recipe because there was only two of us eating and it still made a lot. I added some baking powder to the eggs (I always do that for scrambled eggs and omelets) as it makes the eggs fluffier. Thank you for sharing this wonderful recipe. **Made for Culinary Quest - Suitcase Gourmets**
Cook bacon in 12-inch nonstick skillet over medium heat for 5 minutes. Add potatoes; continue cooking, stirring occasionally, until potatoes are browned and crisply tender (12 to 15 minutes). Add onions and green pepper. Continue cooking until onions are softened (3 to 4 minutes). Pour off fat.
Meanwhile, stir together half & half, eggs, salt and pepper in small bowl. Pour egg mixture over vegetables; stir to mix. Cook over medium heat, gently lifting portions with spatula so uncooked portion flows to underneath, until eggs are set (4 to 5 minutes).
Sprinkle cheese over eggs. Let stand until cheese is melted (2 to 4 minutes).