Cornmeal-Fried Oysters With Chipotle Mayonnaise
IngridH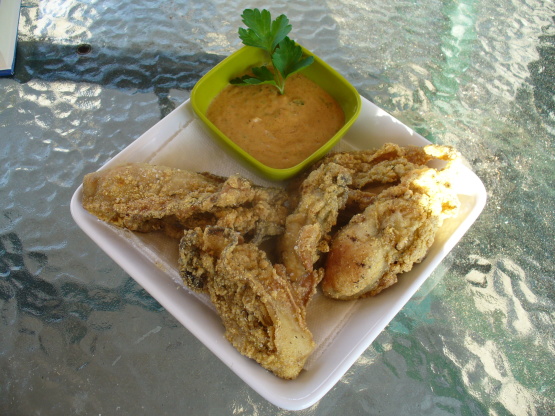 Everyone loves fried oysters, and this typical Cajun dish is perfect. It is excellent for a party or any time of year. Buy already shucked oysters to save time and trouble. If you buy the larger B.C. oysters for this dish, cut them in half.

I need to start by saying that I'm just rating the oysters, I didn't make the mayo. These were really good. The breading was thin, but had great texture, from the combination of the flour and the cornmeal, which really let the natural flavor of the oysters shine through. There was just enough breading that the edges of the oysters were crispy and crunchy, which is the way I like them. I didn't want to hassle with a pan and oil, so I threw them into my mini deep fryer for 3 minutes at 400F, and they cam out perfectly. I used "medium" oysters in a refrigerated jar, as I really didn't want to spend the time to shuck fresh ones. Next time I'll use "small" oysters, as the medium were really huge. If you prefer your oysters to be really done through, use the smallest ones you can get. I might add a touch of cayenne next time, just to see what a little spice adds, but these are really good just as they are. I served with the sauce from recipe #57373, as chipotle and adobo was just not something I wanted today. Made for ZWT5 by one of the Cooks with Dirty Faces.
Fried Oysters:.
Combine cornmeal, flour, paprika, thyme, salt and pepper in a dish. Toss oysters in cornmeal mixture.
Heat enough oil to film base of skillet on high heat. When oil is very hot, add oysters, but do not crowd pan. Sauté for about 1 to 2 minutes or until coating is browned. Remove immediately to serving dish. Add more oil as needed to fry remainder. Serve with Chipotle Mayonnaise (recipe follows).
Chipotle Mayonnaise:.
Combine mayonnaise, chipotle peppers and adobe sauce. Season with salt and stir in coriander.