Cornbread With Corn and Cheese
Juenessa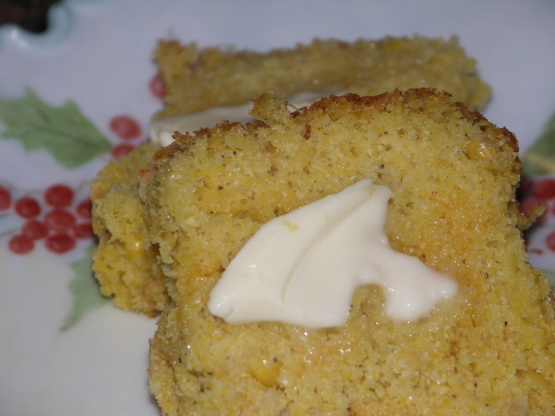 easy and quick to make, this is also good for cornbread stuffing, from the ny times.

Excellent recipe. I didn't have canned creamed corn and used regular canned corn instead, as well as substituting sour cream for the buttermilk. I also added a pinch of baking powder as I suspected that the baking soda was in error. Maybe not, but it seemed to work anyway.
Place oven rack in middle of oven. Heat to 400 degrees.
Combine corn, cornmeal, eggs, salt, baking soda and buttermilk. Stir well; add oil and ¾ cup of the cheese. Stir to blend.
Place butter in 9-by-9-inch baking pan and put in oven until melted, not browned.
Pour batter into pan. Sprinkle with remaining cheese. Bake for 20 minutes or until tester inserted in center comes out clean.