Cornbread in a Round (Low-Fat)
MsSally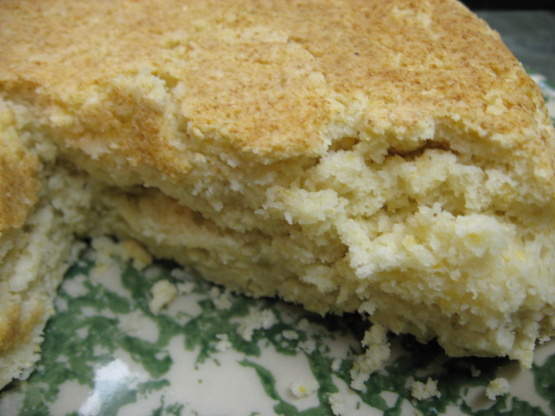 This comes from The New Dr. Cookie Cookbook. It's a low-fat cookbook filled with cookies, muffins, cakes and breads. I like it because it tastes moist and doesn't make a mess when eaten.
In one bowl mix cornmeal, flour, baking powder and salt. Set aside.
In another bowl beat egg, honey and oil with an electic mixer until smooth.
Add the milk, beat again.
Stir in, by hand, the cornmeal mixture until just combined. It will be lumpy.
Pour into a 9 inch pie plate that's been sprayed with cooking spray or a 9 inch greased cast iron skillet.
Bake at 350 degrees for 20-30 minutes or until lightly browned and a toothpick insterted in the center comes out clean.
Serve hot.