Corn Flakes Rice Krispies
Julia15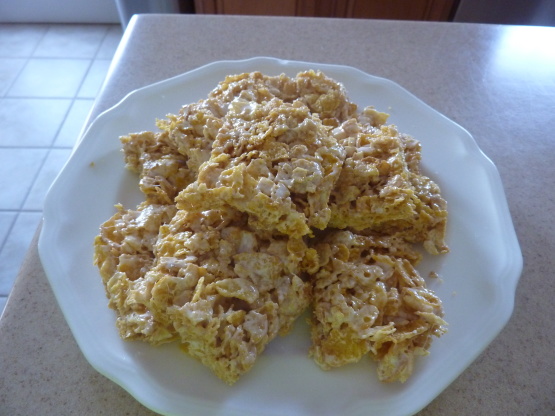 These gooey treats are super good and only take 15 min to prep!
1

box/ 8 cups corn flake cereal (Unsweetened)

10

ounces of regular marshmallows

3

tablespoons butter (Unsalted)
Toast cereal on Parchment sheet for 1 minute under Broiler. Let cool.
Melt Butter in large bowl.
Add Marshmallows and melt until all combined, creamy, and gooey.
Mix in 7-8 cups Cereal. Stir together until all cereal is coated.
Spread mixture onto same Parchment sheet to about 1-2 inch thick.
Cover with Plastic Wrap and set into fridge for couple hours.
Cut into bars and Enjoy!