Dorel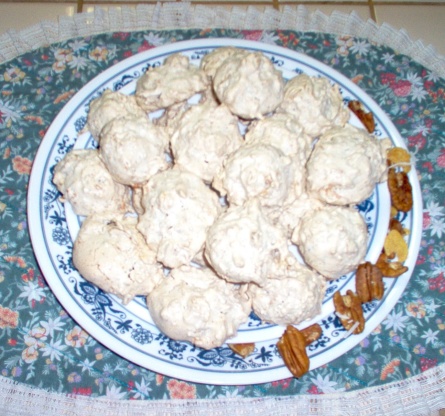 This recipe originated on the back of a Kellogg's Corn Flakes box years ago. A good way to use up any extra cornflakes you have hanging around. I just made these yesterday and got 45 cookies.

Boy, Dorel do these cookies bring back memories of burnt offerings past! I LOVE these cookies! I cut the sugar down as you suggested. Because we don't purchase boxed cereal often, I was able to find generic "Corn Flakes" in the bulk bin at the grocery store. So I only had to buy as much as was needed for the recipe. How lucky was I? And you can NEVER go wrong with coconut in my humble opinion. CG is a big proponent of parchment paper which has made me actually enjoy baking for the first time in my life. Thanks for sharing this oldie but goodie. Merry Christmas, Dorel!! CG ;)
Preheat oven to 325°F.
In large mixing bowl beat egg whites until foamy.
Stir in cream of tartar and vanilla.
Gradually add sugar beating until stiff and glossy.
Fold in pecans, coconut and cornflakes.
Drop by rounded measuring tablespoon onto well greased or parchment lined baking sheets.
Bake for about 20 minutes or until lightly browned.
Remove immediately and place on wire rack to cool.