Corn Casserole With Jalapenos
JustJanS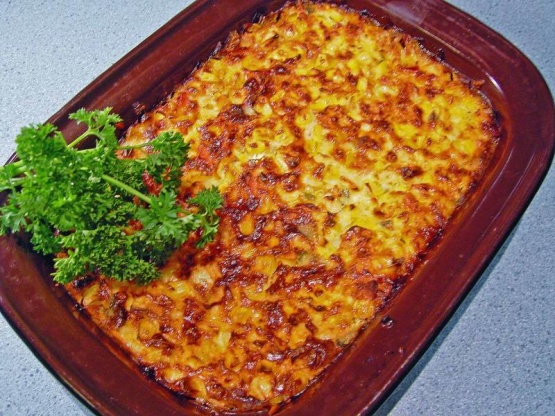 I couldn't quite find what I wanted tonight, so here is what I came up with.

I omitted the bacon (didn't have any) and used dry chili flakes and only used 1 egg because I halved the recipe. The result was still really good. The whole family enjoyed this so thanks for sharing such a simple but yummy idea. I have made this many times now, following the exact recipe and it is even tastier. I like to take left-overs to reheat for lunch at work.
1

tablespoon butter

2

slices bacon, diced

1

small onion, finely chopped

3

corn on the cob, kernels removed

3

eggs
1⁄2 cup light sour cream
3⁄4 cup light cream
1⁄2 cup grated cheese (I used a sharp cheddar)

2

tablespoons pickled jalapeno peppers, chopped

1

teaspoon sugar

1

teaspoon salt
1⁄4 teaspoon pepper
Preheat oven to 180c or 350f.
Bring a saucepan of water to the boil. add corn kernels, return to the boil and cook 2 minutes. Drain.
Heat the butter in a frying pan and add the onion and bacon, cook until softened-about 5 minutes.
Mix remaining ingredients together in a mixing bowl, add bacon mixture to this.
Pour into an ovenproof casserole dish and cook in pre-heated oven about 45 minutes or until set through.