Corn & Broccoli Casserole
Leslie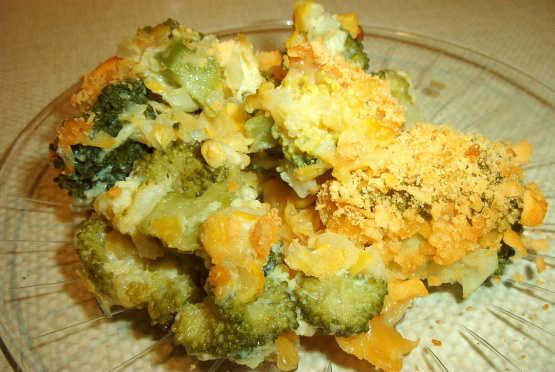 I really love this veggie casserole, I hope you do too!

I was looking for a recipe that used creamed corn because I had a couple of cans that were soon to expire (I've never actually made creamed corn but my husband LOVES corn, so he had purchased some a while ago and of course HE didn't cook it! lol) I doubled this recipe and steamed a couple backs of veggies (one pack of broccoli and one pack of broccoli, carrots, and cauliflower). I followed the rest of the recipe pretty much spot on accept I only had about 8 Ritz crackers left so I crushed and sprinkled those around then I substituted the rest with Italian bread crumbs and I added garlic and onion powder to the vegetable mixture. Atop the bread crumbs I sliced thin slices of margarine every inch or so, then I sprinkled with shredded cheese and crumbled bacon. It was DELICIOUS! The only reason I give this recipe a 4/5 instead of a 5/5 is that it was a little looser than I would have liked it to be, so next time I will play around with the recipe a little. Maybe next time just ONE can of creamed corn and another can of plain, drained corn kernels. GREAT recipe though, I would definitely recommend it. Quick, easy, and CAN be filled with vegetables! (I accidentally deleted the picture that I took of it, it looked SCRUMPTIOUS!)
425.24

g can creamed corn

340.19

g package frozen chopped broccoli, cooked and drained

118.29

ml Ritz cracker crumbs
salt & pepper

1

egg, beaten

59.14

ml chopped onion
Mix corn, broccoli, egg and onion gently.
Season with salt and pepper and pour into a buttered 1 quart casserole.
Sprinkle with cracker crumbs and dot with margarine.
Bake at 350* for 35-40 minutes.