IngridH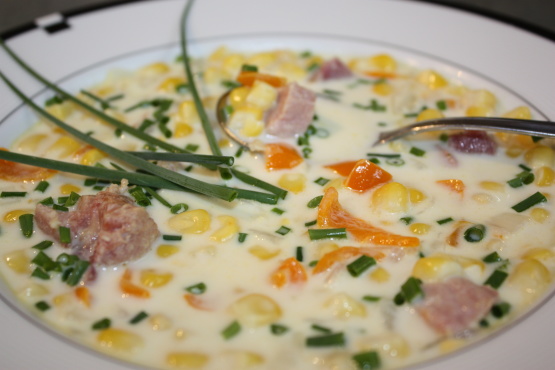 This is easy to throw together with ingredients that are more than likely in your kitchen already. It's a great way to use up leftover ham bits, and is a nice, home-style soup to serve on a blustery day.

This is really a great soup! Easy, fast, and made from staples either in the fridge or freezer. I used frozen corn instead of canned, and an orange pepper instead of green, but otherwise made as written. I would make two small changes next time I make this- first, saute the onion and pepper before adding the rest of the ingredients; second, add a clove or two of garlic and saute with the vegetables. This was really great for a weeknight, and a wonderful way to use up leftover ham.
In saucepan, combine all ingredients except cream. Bring to boil. Reduce heat. Simmer, covered, 15 minutes.
Stir in heavy cream. Heat through, but DO NOT BOIL.
Garnish with whipped cream and chives, if desired.