Corn and Black Bean Macaroni Salad - Tex Mex
LifeIsGood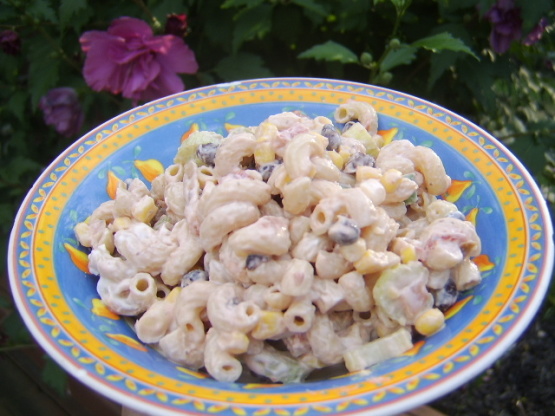 Chill a beer for this nice and spicy dish! The elbows should be cooked al dente in well salted water to prevent broken mushy noodles. Do salt the water liberally. (2 teaspoons is not a lot once mixed with the rest of the ingredients) Seasons the pasta and avoids father salting in the recipe. This can be eaten as a side or a main balanced meal. I opted for yogurt and smart balance for better health. But you can use sour cream and mayo.

This is a flavorful salad that is perfect for a large potluck, as it makes a lot of salad. We brought it to a neighborhood block party yesterday. DH smoked the canned corn in our stovetop smoker. I used a little more chipotle in adobo than a Tb and it gave just the right amount of smoky spiciness without being overpowering to those that enjoy their food mild. I did use a medium salsa. I loved the idea of combining mayo and Greek yogurt. This really worked in the recipe making it a bit healthier than it otherwise would be. We ended up salting and peppering the salad to taste after melding in the fridge a few hours. Made for June 2013 Veggie Swap.
Mix all ingredients together and chill 1 hour to overnight.
Do additional mayo or olive oil just before serving if extra creaminess is desired.