Cooking Light Butterscotch Pudding
mikey ev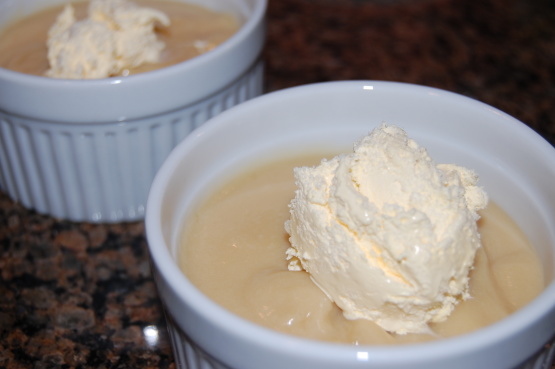 From the January 2008 Cooking Light magazine. "Vitamin D aids Calcium absorption in dairy foods. One serving of this dish offers about 1/5 of your daily calcium needs. Garnish with fresh grated nutmeg.

Yum! This is so good! Perfect rich butterscotch pudding. I used fat free milk with good results. Thanks for sharing the recipe!
Combine first three ingredients in a saucepan. Gradually add 2 cups milk; stir with a whisk until blended. Cook mixture to 180 degrees or until tiny bubbles form around edge (do not boil.
Combine remaining 1 cup milk, egg, and egg yolk in a bowl; stir with a whisk.
Gradually add 1 cup of hot milk mixture to egg mixture, stirring constantly with a whisk. Add egg mixture to saucepan. Bring to a boil; cook 1 minute or until thick, stirring constantly. Remove from heat; stir in butter and vanilla. Place pan in a large ice filled bowl for 20 minutes or until mixture cools to room temperature; stir occasionally. Cover surface of pudding with plastic wrap. Chill. Serve with whipped topping.