Cookies Around the World 5 of 5
Pamela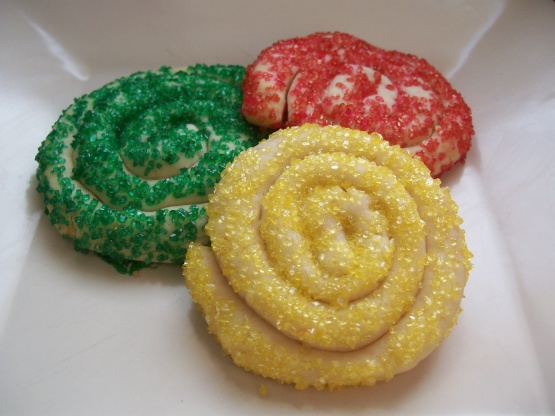 This is a great recipe for variety (English, French, Greek, German, Finnish, Italian, Swedish, Norwegian, Turkish, Mexican. I have split them up two to a recipe, but if you want them all, there are 5 separate recipes. They are made from one basic cookie dough. I think some of them may be posted individually, but at Christmas I make the entire variety. Each batch of basic dough makes a batch of two of the cookies with the ingredients I have listed.

Top Review by Pamela
I used this recipe for my Wednesday night kid's club cooking class and it was perfect! I made up a big batch of the basic dough and then divided it into 4 of the variations. This recipe fit well into my 'around the year theme'. I used red, green and yellow coloured sugar for the coating.
BASIC COOKIE DOUGH.
Cream butter and sugar.
Beat in egg and vanilla.
Add flour slowly, and mix well.
Divide in two.
TURKISH TWIRLS.
Preheat oven to 375.
Add to 1/2 basic cookie dough- lemon peel and ground cardamom.
Mix well.
Shape dough by rounded teaspoons into pencil-like strips, about 6 inches long.
Roll strips in colored sugar.
Coil around into spiral shapes.
Bake on ungreased baking sheet about 10 minutes until set.
Immediately remove from baking sheet.
MEXICAN SWIZZLE STICKS.
Preheat oven to 375.
Mix into 1/2 basic cookie dough- premelted chocolate and cinnamon.
Using star plate cookie press, for 4 inch fingers on ungreased baking sheet.
Bake 5-7 minutes, or until set.
Cool.
Drizzle with chocolate glaze made as follows.
blend confectioners sugar, premelted chocolate, and milk.
Sprinkle with colored shot, chocolate shot or nuts.
Or, if desired, dip ends in or dust with Cinnamon/sugar made by blending 1/4 cup confectioners sugar and 1/4 teaspoon cinnamon.