Contest Winner - Twice-Baked Potato Casserole
Noo8820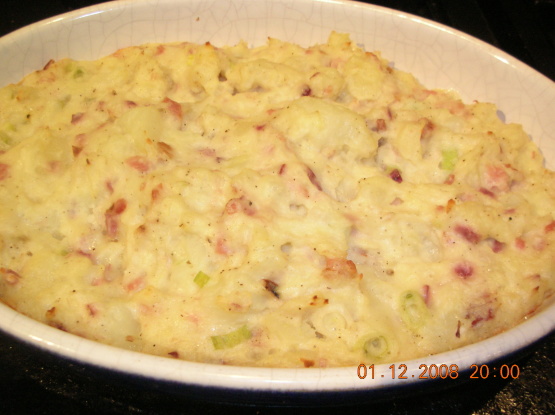 This was my winning entry in the Annual Power Facts Recipe Contest sponsored by Alabama Power. I think it was in 2004. Warning: it's loaded with fat, calories and TASTE!!

This was a delicious dish.I also cut back slightly on the bacon and used low fat sour cream.I used red onion in mine and also added some chopped spring onion.At the end of cooking time I uncovered mine for a few minutes to get a little crust on top.Next time,I think I might bake the potatoes rather than boil,just for that gorgeous baked potato taste. Thanks Mailbelle,it's a keeper.Made for PRMR.
Boil potatoes until cooked.
While potatoes are boiling, fry bacon.
Chop fried bacon.
Drain potatoes and place in a large mixing bowl.
Add all other ingredients.
Whip with electric mixer (don't whip until completely smooth - leave some chunks in it; if you whip it too much it will be soupy).
Put whipped potato mixture into a 1 1/2 quart baking dish.
Cover and bake at 350 degrees for 35-40 minutes.