PaulaG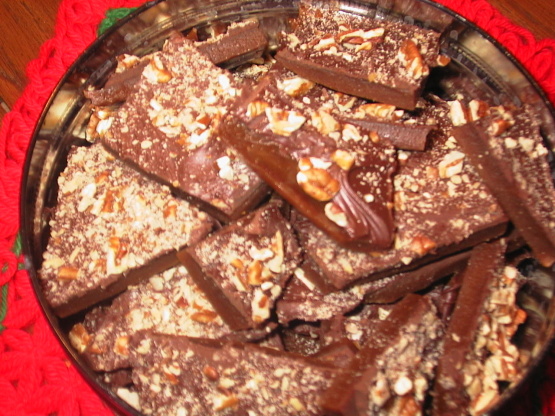 Old fashioned chocolate dipped Coffee Pecan Toffee! This makes a great gift! From Better Homes and Gardens. A popular variant of toffee in the US is English toffee, which is a very buttery toffee often made with almonds. It is available in both chewy and hard versions; there is some debate as to which is the traditional English style and which is an Americanized version. A popular presentation of English toffee is covered in chocolate and almond pieces.

I just finished packing up my first batch of this great candy... and more batches will follow, because this is definitely the recipe I will be making as my " homemade gift of the season". I have never made toffee before, and was a little nervous about how this was going to turn out. Followed the cooking directions exactly, and it was perfect. I couldn't find espresso powder in my area, so I used espresso beans that were ground extremely finely in my coffee grinder. And I chose to break the toffee into pieces first, then ice with the melted chocolate mix, and sprinkle with pecans. Very easy and very good!
Line a 15x10x1-inch baking pan with foil, extending excess over edges of pan.
Set pan aside.
Butter the sides of a heavy 3-quart saucepan.
Melt the 2 cups butter in saucepan.
Add sugar, 1/3 cup water, molasses, and 1 tablespoon espresso powder.
Cook and stir over medium-high heat until mixture boils.
Clip a candy thermometer to side of pan.
Reduce heat to medium; continue boiling at a moderate steady rate, stirring frequently, until thermometer registers 290 degree F.
,soft-crack stage (about 25 minutes).
Watch carefully after 280 degree F to prevent scorching.
Remove saucepan from heat; remove thermometer.
Stir in vanilla.
Pour candy into the prepared pan.
Let candy stand about 1 hour or until firm.
Use foil to lift candy out of pan.
Break candy into pieces that are about 2 inches in size.
Melt the 3 tablespoons butter in a heavy medium saucepan.
Stir in the 1 teaspoon espresso powder till dissolved.
Add chocolate pieces and melt over low heat, stirring often.
Place pecans in a shallow dish or on waxed paper.
Dip half of each candy piece into melted chocolate mixture, coating all sides.
Place dipped candy on waxed paper.
Sprinkle with pecans.
Chill until chocolate is firm.
Store in a tightly covered container.
Makes about 2-3/4 pounds (about 48 piecies).
Give a Gift: With old-fashioned chocolate-dipped Coffee-Pecan Toffee.
Package the pieces in a cone-shaped paper container.
Simply lay squares of parchment paper, textured gold paper, and wire mesh atop one another, then roll and twist into a cone.
Tie the outside of the cone with ribbon and secure the candies inside with cellophane.