MsPia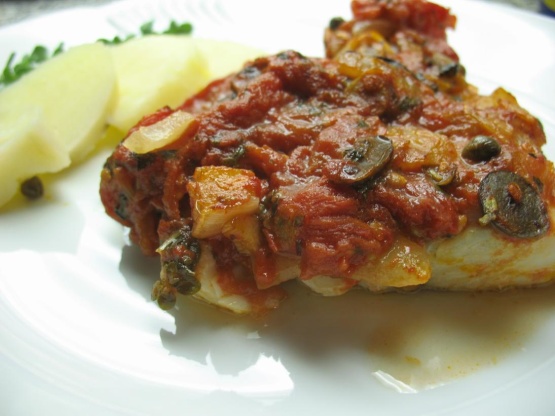 Light, healthy and easy. The saute part can be done in advance. I add some anchovies with the onions and garlic and let them dissolve into the vegetable mix. I also use fresh oregano when possible.

Made this simple cod dish with only a few changes (dried basil and black olives, since I didn't have any Greek olives). It was delicious, colorful, and light!
Preheat oven to 450 degrees F. Arrange fillets in 8x8x2 inch square baking dish.
Saute onion and garlic in oil in medium-size skillet over medium heat 3 to 5 minutes or until lightly softened. Add tomatoes, capers, basil, olives, lemon juice, oregano, salt if using and pepper.
Simmer, stirring occasionally for approximately 8 minutes. Spoon the sauce over the fish.
Bake in preheated oven for 10 minutes or until cooked through.