Coconut Prawns With Coriander Mayonnaise
gailanng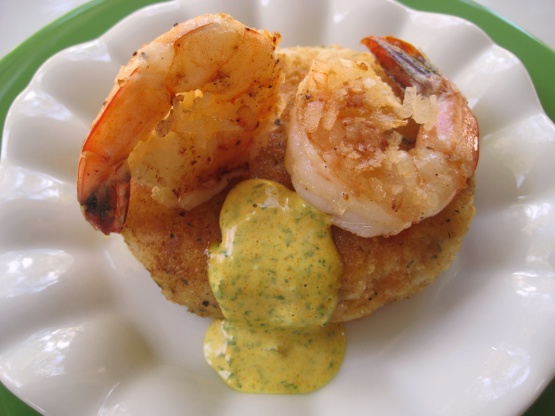 I served this as a stater to a three course meal I did the other night, I used large king prawns and allowed for 2 per person as a starter. I love coconut prawns and I make them several ways, I think my favourite is a curry dipping sauce I make when doing a larger platter of coconut prawns. As this was for a dinner party and that sauce takes more time, I decided to go for a more simplistic one that I could make quickly without fuss. This sauce still goes very well with the coconut prawns and takes no time at all, if you end up having leftovers this will keep in the fridge and does go well with meats in sandwiches also.
Shell and devein prawns, leaving tails intact (makes for better presentation, you will notice from my photo Mine do not as I had to buy them already shelled from my fish store so didn't have a choice.).
Dip prawns in egg, coat in coconut (I like to double dip so I really get a good coating of coconut, if you do not do this you may need less coconut.)Place prawns on a plate, cover, refrigerate about 20 Min's. Or make ahead of time and store till needed, only same day use though.
Heat some oil in a frying pan, add prawns, cook on both sides until browned and crisp. Serve with coriander mayonnaise and over roti, if desired. I served mine over crab and zucchini fritters.
Coriander Mayonnaise.
Blend turmeric with the water in a small bowl. Stir in remaining ingredients. This can be made ahead of time and just stored in the fridge.