twissis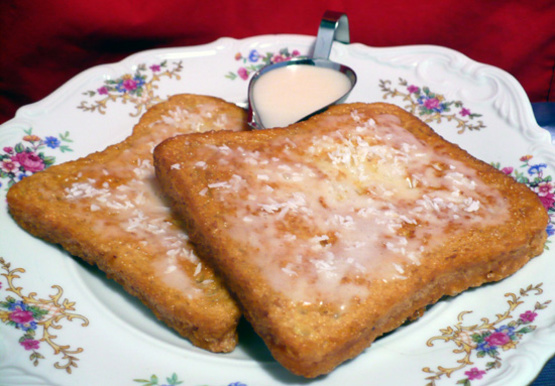 Bored with plain maple syrup? Here's a no-cook topping that will make your waffle want to do the hula. Note - This does not have a traditional syrup consistency - more like a sauce. I'll bet it would be fabulous over warm bread pudding.

Yum! I whizzed a half recipe of this syrup/sauce together in minutes using my magic bullet. Bearing in mind your comment Re the thickness & the reviewer comment Re the sweetness, I decided to begin with 3/4 the amt of powd sugar & I am glad I did as it was still quite thick, plenty sweet enough for me & I doubt most would want it thicker or sweeter. Even a half recipe makes a fair amt, but I will be very happy to have it around. I served it over French toast today for breakfast w/a scatter of coconut flakes on top. This would be impressive as part of a brunch w/some ham + tropical fruits & I sense a brunch w/our best friends in the near future. Thx for sharing this sure to be repeated keeper w/us. :-)
Mix confectioners sugar and coconut milk together in a small bowl.
Stir in maple syrup and vanilla extract.
If you like it thinner, stir in pineapple juice until it reaches the desired consistency.
For nutritional data calculation, my "serving" is actually 1 tablespoon.