jdimch1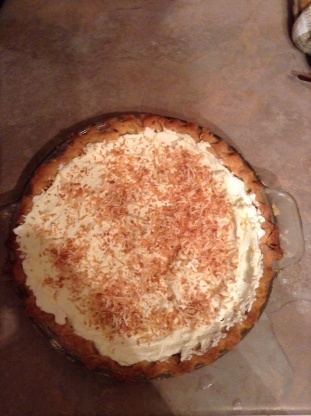 Originally posted as coconut cream, sorry for the confusion.

What a nice coconut custard pie! I have been looking for a good coconut custard pie recipe that did not involve scalding the milk. This came out terrific. The only thing I did differently was add 1/3 cup of sugar and added the toasted coconut before baking. I plan on making this one for Christmas as well seeing it is my wife grandfathers favorite. I'm sure he will approve! Thanks for posting!
Spread the 1/2 c coconut evenly over bottom of uncooked pie crust and set aside.
In a mixing bowl mix eggs, sugar, cinnamon, nutmeg, vanilla, and salt.
Mix well, then add milk and half and half.
Mix this thoroughly.
Pour over coconut and crust and bake 400o for 50-55 minutes or until a knife inserted into center comes out clean.
Chill and cover with whipped cream and then sprinkle w/ toasted coconut.