Fast and Easy Coconut Custard Pie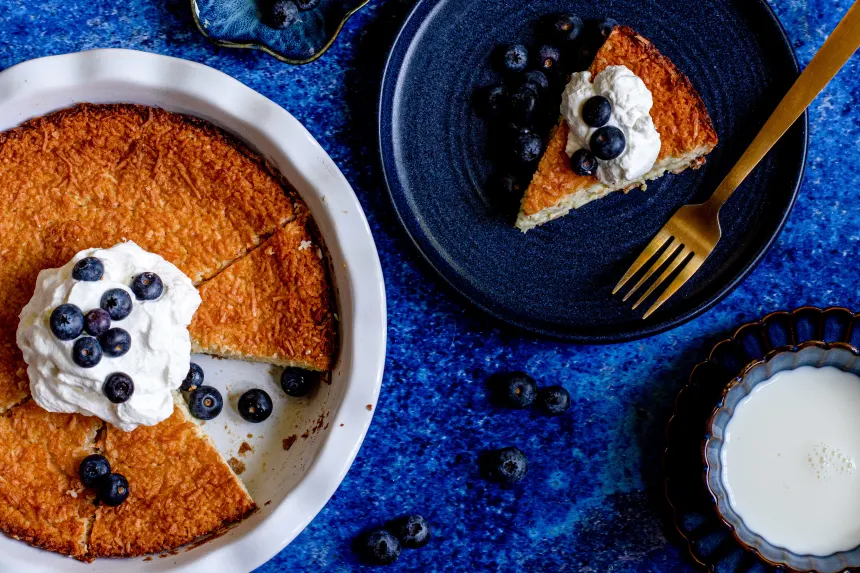 photo by Genius Kitchen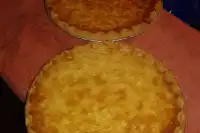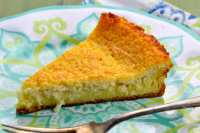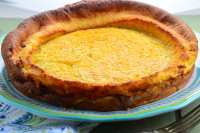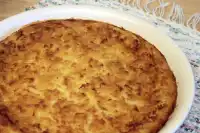 Ready In:

1hr 8mins

Ingredients:

7
directions
Preheat oven to 350 degrees.
Spray a 10 inch pie plate with cooking spray and then dust with flour.
(Or grease it and then flour it in your usual method.) In a blender place everything but the coconut.
Mix until it is blended.
Add the coconut and blend for a few seconds or until it is all mixed.
Pour it into the pie plate and bake for 50-60 minutes.
Reviews
Pretty darned good. Came out a lot flatter than some of the photos, but I'm thinking my pie pan was a little small. I filled it to capacity (and then some) and it almost spilled over in the over. I did, however, use up the leftover mix that wouldn't fit into the pan and microwaved it as I've read others have done. THAT WAS AMAZING! Next time will not be so impatient (and greedy) and use a larger pie plate. Been trying for decades to get this kind of a crust for custard pie, using a regular pie crust...duh. Too easy. Next time will make plain custard w/o the coconut for my mom who can't have coconut. Thank you so much for this recipeUPDATE - made this again but used hand mixer instead of blender, and it came out more separated, like quiche as others stated. Made again with the blender, no problem. Perhaps the blender mixes or emulsifies things better? Hope this helps

 

Wonderful! This was really yummy and so easy to make! One thing I want to comment on regarding the review about the crust being a doughy mess. When I was reading the recipe and got to the part about dusting the pie pan with flour, I very nearly interpreted that as using the 1/2 cup of flour in the ingredients list. But it's a separate dusting of flour, and then the 1/2 cup goes in the blender. I wonder if that's what went wrong! Another thing; the first time I was so eager to eat the pie (it smelled so good!) that I pulled it out when the custard was done. But the crust was still pretty soft. The next time I made it, I put it on the second lowest rack in the oven and let it cook for the full hour. That did the trick. The crust is still soft - you can't expect a regular pie crust - but you just can't beat the simplicity of it. Oh, and the second time I made it, I put in an 8 oz. can of tidbit pineapple (well drained) and reduced the coconut to 3/4 cup. MMMMM!! Thank you for a great recipe!

 

Tasted like coconut quiche instead of custard. I came back to the recipe to see if I had forgotten to write down some sort of sweetener, but there is none listed. I don't eat very sweet foods, but this could have benefitted from even just 1 teaspoon of sugar. Very eggy and buttery. I will be the only one who will eat this. Sorry to be negative.

 
Tweaks
This is for sure an eggy custard pie. Very tasty though, especially when hot. To amp up the coconut flavor, I made a few substitutes. Substituted canned coconut milk for skim milk, unrefined coconut oil for butter, and did half of the coconut as sweetened, 1/4 unsweetened, and 1/4 toasted. It was very coconutty & delicious. I will experiment next time by leaving out 1 of the 4 eggs, and one of the 6 tablespoons of oil (butter) just to see what will happen.

 

I made this pie and it turned out beautifully. I substituted half and half for the milk (why the heck would you make a dessert with skim milk?) and the flavor was nice and rich. I loved how this pie made its own crust! And it was so easy to make, I almost couldn't believe it. I brought this in for "Pi Day" at work and it held its own against 7 other pies - no leftovers! Highly recommend.

 

This dessert is beautiful in appearance with a wonderful pie crust like shell, but taste wise it turned out very bland. I expected more sweetness. Also the filling was not custard in texture but more like a "Budin" ( a Spanish dessert made with old bread that has a fruit cake type of center but softer) I did made a change to the recipe since we have our own coconuts growing in our property. I substituted the sweet coconut flakes for fresh coconut shavings, but to compensate for the lack of sugar in the natural coconut I added more sugar, so this shouldn't have been as dull in flavor. I followed all instructions in the recipe with the above exception.

 
RECIPE SUBMITTED BY
Life without change is boring. And my life is never boring!! I don't know what plans have been made for us for the future, but I'm doing my best to enjoy the ride!
View Full Profile