GaylaJ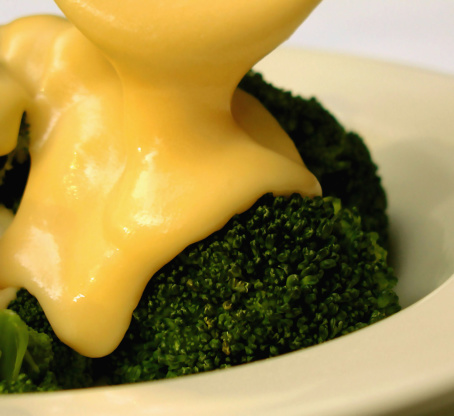 Another recipe I grew up with from the Bero book. This is a wonderfully thick sauce, great with mashed potatoes, steamed veg, and especially broccoli. Works well as a make-ahead, after being cooled in the fridge you can literally just cut a slice off the block so you easily get as much as you want. I usually buy the strongest shredded cheddar I can find as my joints won't put up with doing it myself. I'd advise picking the strength of cheese you are fond of though. I've listed it all as prep time as it needs fairly constant attention.

Very simple to make and quite good. I like having the power to alter the cheesiness of the sauce and choose which type of cheeses I want to include. I've only make with sharp cheddar so far and did use more cheese than called for to obtain the cheddar-y taste I was after. Served on top of cauliflower. So much better than cheese whiz. :) Thanks!
Melt the butter over a medium heat.
Slowly add the flour and beat till smooth.
Remove from the heat and slowly add the milk, making sure to mix well. You want to avoid lumps. If you get some, fishing them out on the spoon and squishing them with the fork to break them up can help.
Bring to a boil and cook gently for 2-3 minutes stirring constantly.
Add the cheese and mustard if you have it (I'd not worry if you don't I doubt it's enough to fuss over.) The more cheese the better in my book, but for a thinner sauce you might want just the 4 oz.
Serve immediately, or pour into Tupperware and put in the fridge. The sauce will firm up,but just cut off as much as you want and warm in either the microwave or a pan. You can add more milk to thin if needed.