chef1aB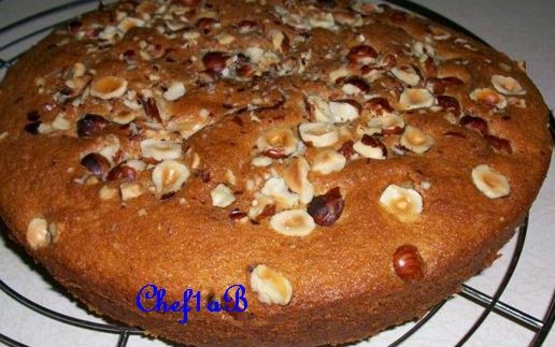 If you are a Nutella fan, you'll probably like this, or, (if extremely addicted, you may prefer jar and spoon mode as I do). This recipe is from the BBC'S 'Good Food'. Very easy to make and freezes well.

A very nice-tasting cake but I found it didn't rise as much as I thought it would. Also, the nutella tended to settle where I daubed it, despite the fact that I swirled it through the batter with a knife. It wasn't very nice biting into solid lumps of nutella.
Preheat the oven to 185°C.
Grease and line the base of an 8" round cake pan.
Put butter, sugar, eggs, flour, baking-powder, cinnamon and milk into a bowl.
Beat with a wooden spoon for 2-3 minutes, or with an electric mixer for 1-2 minutes until light and fluffy.
Tip 3/4 of the mix into the cake-pan, spread it level, then spoon the Nutella on in four blobs.
Top with the remaining mix, swirl a few times with a skewer, then smooth to cover the Nutella.
Sprinkle with the nuts.
Bake for 1 hour to 1 hour 10 minutes.
,until risen, nicely browned and springs back when lightly pressed (cover with foil if it starts to brown too quickly) Cool in the pan for 10 minutes, then turn out, peel off the paper and cool on a wire rack.
Wrap tightly in double-thick foil to keep fresh for up to a week.