diner524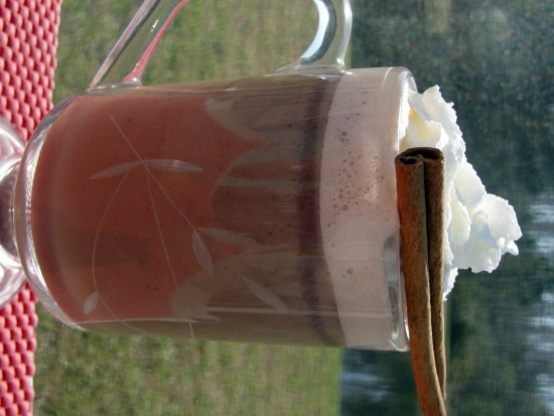 Once a month, our mortgage company sends out a postcard with a recipe on it (weird, I know). This recipe was in our mailbox yesterday. Sounds perfect for a wintery day!

Delicious! I'm a fan of cinnamon, so I knew I would enjoy this. It was hard to wait the ten minutes while it steeped. Totally worth the wait. I think next time I'll either halve or leave out the brown sugar. I don't drink my coffee sweetened so it was a little too sweet for me. Thanks for sharing the recipe. I know I'll be making this again.
Combine milk and cinnamon sticks in saucepan over low heat; bring to a simmer, then remove from heat.
Add chocolate and whisk until metled.
Then cover and let stand for 10 minutes to allow flavors to strengthen and blend.
Bring milk mixture to simmer and add coffee, brown sugar and vanilla.
Strain and pour into mugs.
Top with whipped cream.
Garnish with ground cinnamon or chocolate shavings (optional).