Starbucks Peppermint Mocha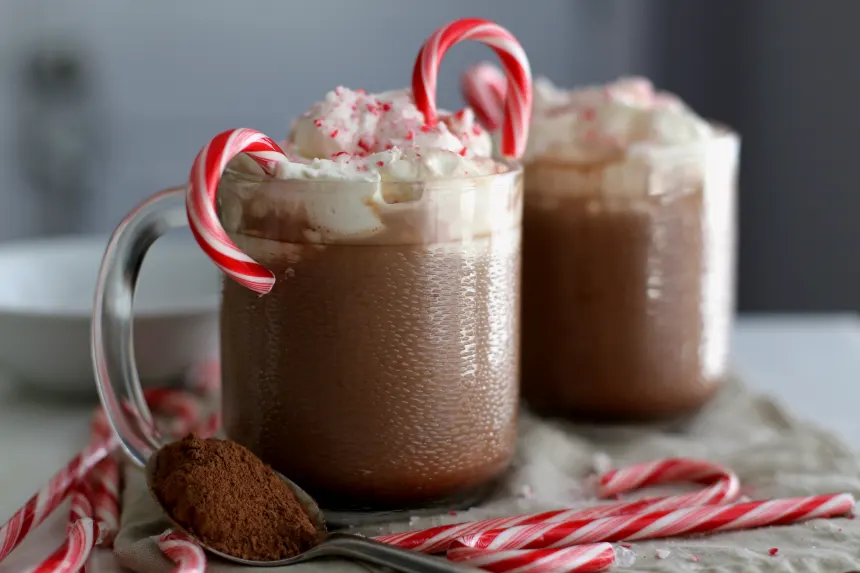 photo by Ashley Cuoco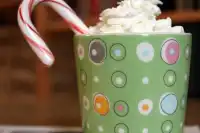 Ready In:

8mins

Ingredients:

7
ingredients
3

tablespoons powdered baking cocoa (I used Ghirardelli-sweet ground chocolate and cocoa powder)

3

tablespoons warm water
1 1⁄2 tablespoons peppermint syrup (do not use extract- you can buy a very large bottle of syrup at Starbucks for $7) or 1 1/2 tablespoons creme de menthe

4

ounces espresso (see note below on how to make if you are unfamiliar)

12

ounces steamed milk (I use Fat Free)

whipped cream

red sugar crystals
directions
Combine 3 Tbsp Baking Cocoa with 3 Tbsp warm water to make into a rich syrup. Pour into a 16 ounce mug.
Add espresso
Add Peppermint syrup.
Steam milk and add to remainder of cup.
Garnish with whipped cream and sugar crystals.

Note: To make espresso (for 2 servings of this recipe) for those who do not know how, follow the directions below. Don't let the thought scare you it is almost as easy as making regular american coffee- it just takes a little practice:

Buy a $30 machine (Mr. Coffee ECM250 is good).
Put water into carafe up to band and put into machine.
Put coffee (any kind of finely ground) into filter head and pack down well.
Turn on and brew until carafe fills to 4 cup line that way there is still enough water in machine to steam milk.
Switch to steam mode and steam milk (if you do not have a frothing pitcher a 12 oz ceramic mug will work filled half way with milk but takes 2 fill ups to make one serving of this recipe).
Follow recipe and enjoy!
Reviews
Comment: I suggest an espresso maker for making espresso. It's simply not the same as regular coffee. Sure the chocolate overpowers the taste to an extent- but espresso is made under pressure not with a drip coffee machine. The two are simply not equals. As for the recipe: The proportions here are about what I used at home. Only I used less milk (I thought you recommended 14oz and tried it this way but it was way too much IMO and it was very diluted tasting. 8oz was too little- and the drink a little too rich (though quite delicious and VERY chocolatey. Next time I'll try 10oz of milk instead- I think 12oz may be too much). I've had alot of starbucks peppermint mochas and that is the taste i'm shooting for. It'll be mostly chocolate taste- a little peppermint. And this would outweigh the taste of the espresso. And instead of adding water to the Sweet Ground Chocolate powder- i mixed it with the peppermint syrup to make the paste. This keeps the flavors from being more diluted. The amount of syrup used is more than enough to make a good paste with the chocolate powder. I might also recommend a smidge more peppermint syrup- but that can be adjusted after the drink is made.

 

Awesome!!!! I made my own peppermint syrup by mixing 1 cup of powdered Splenda with one cup of water, heating that on the stove until dissolved and then adding 1 tablespoon of peppermint extract. I used 4 TBSP of the peppermint syrup to the coffee/cocoa mixture before I added the steamed milk (I do like it sweet). The end product was as close to the Starbucks as I can imagine without driving into town and spending 7 bucks. Very delicious.